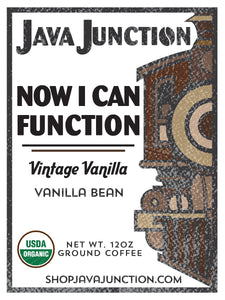 Our Organic vanilla blend
Always liked your coffee
Hello, we used to visit the area, and at your old cafe off of main street. We always enjoyed your coffee, the goodies and visiting with you both. The coffee will always have the memory of your little shop in Strasburg. Thanks as always!
Love their coffee
Vanilla bean and Jamaica My Java are 2 of my favorites! Love to support this family owned business!
Love
This flavor is probably my fave so far! Great quality coffee. I've never encountered that bitter coffee flavor with Java Junction coffees. And you can't beat the service of these wonderful folks.
Coffee purchase
Love, love, love this coffee. As always, timely delivery from some of my favorite people!