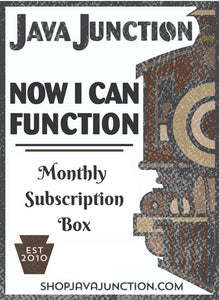 Joining our monthly subscription box gives you access to the coffees that we hand select each month. As a subscriber, you will be the first to receive the flavor of the month as well as any new roasts that are introduced. Each box includes the flavor of the month and one popular choice Java Junction coffee! Your first subscription box will include a measuring scoop that ensures every pot you make will be perfect! Boxes will be shipped the first Friday of each month.
Their coffees are all SO good!!!!
So...I just ran out of my Java Junction coffee yesterday, and was forced to use a big box coffee that I had stored in the freezer (I use it for cold brew). Oh my GOSH what a difference...it was just plain bad compared to the coffee from Java Junction! I now realize how fresh and fantastic the flavors (really all of them...I haven't had a bad one yet and I thought I only like regular coffee. The blueberry and the coconut and the vanilla, oh my!). I LOVE this coffee, and am desperate to get my next shipment!
Love the pumpkin and beachcomber coffee
I really enjoyed the coffee and the woopie pie.
Good coffee & treat
In addition to the coffee, I really love the surprises of Lancaster county bakery goods, especially when I live out of state and miss Lancaster county food from the coffee subscription.